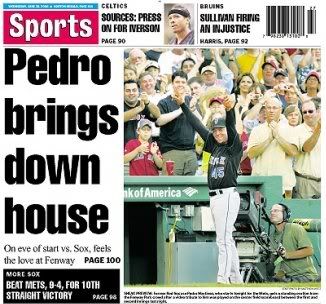 Pedro Martinez makes his return to Fenway Park tonight -- the first time he has been back on the Boston mound since October 18, 2004. That was
Game 5
of the ALCS against the Yankees, a 14-inning victory and one of the greatest games in Red Sox history.
The members of the 2004 World Series champions were cheered as they returned to Fenway Park, whether as Red Sox players in 2005, opposing players, or guests at the ring ceremony. Red Sox fans have not had the opportunity to thank Pedro Martinez for his huge contributions. He moved over to the National League and when the rings were being handed out, he was busy pitching for the Mets.
After a highlight film was shown after the first inning last night, Martinez stepped out of the third base dugout and was loudly cheered. That's a good warm-up. When he walks out of the visiting dugout and walks to the mound (or when he leaves the bullpen shortly before the first pitch), the ovation should be deafening.
As hard as it is to believe, there has been talk of the possibility of Pedro being booed; indeed, some people who call themselves Red Sox fans have openly called for boos. The reception for Martinez last night hopefully has dispelled all thoughts of that insanity. But even before the series began, I couldn't imagine it. Pedro Martinez should get a standing ovation when he comes out of the dugout for every goddamn inning.
Pedro
, yesterday:
I saw 86 years of agony from the fans here. And they were here every day. The fans are true fans. That's why they have so much of my respect. Regardless of how rough they were when you didn't do your job, I believe they are the most faithful fans I've ever seen. I got the opportunity to compete out there, to be part to of this town, to be part of the championship. I can't be any luckier than I am.
If Doug Mirabelli can earn a wild ovation for his return to Fenway, what should Pedro receive? If Roger Clemens received a standing ovation -- while wearing Yankee pinstripes -- what should Pedro receive? He should receive an ovation like Fenway Park has never heard. Anything less would be embarrassing. Anyone who would not cheer until he was hoarse is no fan of baseball and no fan of the Boston Red Sox.
Part of the problem is that the media is busy likening the return of Pedro to the return of Johnny Damon. However, there is no comparison. Damon was a key part of the Red Sox offense and he played hard for four years. In May 2005, he vowed never to play for the Yankees, then signed with the Yankees and took potshots at the Red Sox all winter.
Martinez, in his seven seasons in Boston, established himself as one of the greatest pitchers of all-time. Every one of his starts was an event, a baseball holiday. He hated the Yankees, and burned with the desire to bring a World Series title to Boston. After he did that -- an accomplishment many of us doubted we would ever see -- he rejected a fair offer from the Red Sox, and signed with the Mets.
For all of Pedro's achievements, I maintain that he is underrated. The fact that he failed to win the AL Most Valuable Player award in either 1999 or 2000 -- although he came close in '99 (F you, George King) -- is proof of how little the media understood what he was doing in Boston.
Martinez's performance in 2000 was the greatest year any pitcher has had since the mound was moved back from 45 feet. Koufax? Gibson? Johnson? Grove? No. As great as those pitchers were, every single one of their seasons -- measured against their peers -- pales next to the Pedro Martinez of 2000. That is not opinion; that is
historical fact
.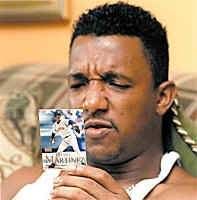 On the all-time ERA+ list, Pedro has the 2nd, 9th, 16th, 25th and 39th best seasons. The only pitchers in history who can touch him are (in order) Walter Johnson (5th, 10th, 22nd (twice)), Roger Clemens (12th, 16th, 27th), Greg Maddux (4th, 5th, 50th (twice)), and Christy Mathewson (11th, 15th). That's it.
[ERA+: The ratio of the league's ERA, adjusted to the pitcher's ballpark, to that of the pitcher (above 100 is above average, below 100 is below average).]
Here are the top 10 ERA+ seasons of all-time:
Player          Age  Year   ERA+
Tim Keefe        23  1880   294
Pedro Martinez   28  2000   285
Dutch Leonard    22  1914   279
Greg Maddux      28  1994   273
Walter Johnson   25  1913   259
Greg Maddux      29  1995   259
Bob Gibson       32  1968   258
Mordecai Brown   29  1906   253
Pedro Martinez   27  1999   245
Walter Johnson   24  1912   240
Pedro is often compared to Sandy Koufax (who posted only the 56th and 70th best ERA+ seasons). While their raw numbers look similar, Koukax pitched from a higher mound (in a pitcher's park (LA)) and at a time when the rule book strike zone was enforced. Pedro's home park favoured hitters and he worked in one of the highest offensive eras in the game's history. With no disrespect to Koufax, Martinez leaves him in the dust.
       Year  ERA+
Pedro  2000   285
Pedro  1999   245
Pedro  2003   212
Pedro  2002   196
Koufax 1966   190
Pedro  2001   189
Koufax 1964   187
Koufax 1963   161
Pedro  1998   160
Koufax 1965   160
Koufax 1962   143
Pedro  2004   125
Koufax 1961   124
This blog grew out of a Pedro website (pedro45.net) I began in February 2001 (now
here
). In March 2003, it resembled more of a blog than a collection of articles on the Sox and Pedro. And in August 2003, I moved the blog here.
So, while I remain a huge fan of Pedro, I don't think I'm that far off by saying that he deserves much of the credit for the 2004 World Series title. His agreeing to a long-term contract was the first in a series of moves that transformed the Red Sox into the powerhouse -- and perennial contender -- we see today.
The amount of good will generated by Pedro in his seven years is almost incalculable. For many seasons, he (and Nomar)
was
the Red Sox. Where would the Red Sox have been if Pedro Martinez had stayed in Montreal? How much different would those seven years -- 1998-2004 -- have been? If Pedro is not in Boston, does Manny agree to leave Cleveland? Does Keith Foulke sign? Does Curt Schilling agree to a trade/contract extension? Does David Ortiz agree to stay?
The fans loved him immediately. His first start at Fenway -- his third start in 1998 -- was a two-hit, complete game shutout. Right away, there were chants and fans waving signs and Dominican flags. Pedro soaked up all the adulation and gave it right back. He was never shy about his love and respect for the city and its fans. He loved pitching in Boston as much as we loved having him in our uniform. And when he wasn't cold-blooded on the mound, demanding your constant attention, he was dancing on the bench, being taped to a dugout pole, simply enjoying himself.
We were spoiled. Martinez pitched so well, for so long, that when he became merely the best pitcher in baseball, we were disappointed. He had set the bar too high.
In the 1999 regular season, he allowed more than 3 earned runs only twice in 30 starts. He allowed 0, 1 or 2 runs in 24 of 30 starts!
After 12 starts in 2000 -- on June 19 -- his ERA was 0.99.
0.99
! Some of the season-ending numbers for Pedro in 2000 (and the second place finisher):
Batting Average Allowed: .167 (Hudson, .227)
On-Base Percentage Allowed: .213 (Mussina, .291)
Slugging Percentage Allowed: .259 (Colon, .371)
Home ERA: 1.84 (Mussina, 2.90)
Road ERA: 1.66 (Wells, 3.24)
Hits Per 9 Innings: 5.31 (Hudson 7.52, only 3 AL pitchers below 8.00)
Baserunners per 9 Innings: 7.2* (Mussina 10.8)
Strikeouts/Walk Ratio: 8.88 (Wells, 5.35)
*: New major league record, breaking the old mark set by Guy Hecker in 1882.
And finally, perhaps Martinez's most overpowering start: September 10, 1999 -- 17 strikeouts in a one-hitter at Yankee Stadium.
The Yankees did not hit a fair ball on any of his final 52 pitches.
During the final two innings, with their team losing 2-1, even Yankee fans were on their feet cheering.
At 7:15 or so tonight, Red Sox fans will have the opportunity to thank Pedro Martinez for every one of his seven years in Boston -- and perhaps especially for the last game he pitched in a Red Sox uniform --
Game 3
of the 2004 World Series: seven innings, three hits, six strikeouts, no runs.
Typical Pedro.