So what's up with
Josh LaLoosh
?
It's just a lack of execution of pitches. Unexecuted pitches get hit hard. Some go out, some don't. If I had to pinpoint one thing, that would probably be it, unexecuted pitches. No excuses. ... I felt fine. In fact I felt really good today. ... It frustrates the hell out of me. I'm a competitive guy. I know I'm pitching against Mussina. You can't stake him to a lead like that.
Many observers thought Beckett threw too many fastballs, was more in love with the idea of smoking the MFY hitters than actually pitching.
Steven Krasner
notes
that Terry Francona is a bit concerned that Beckett is throwing too much hard stuff. "When you've got hitters like [the Yankees] who can do damage, and if they're looking [for fastballs], I don't know if you can throw hard enough."
Beckett
: "I threw some breaking balls. [T]the pitch Cairo hit was a changeup." ... Francona was asked if Beckett had any
health
issues? "No. He had some hit issues. But not health issues."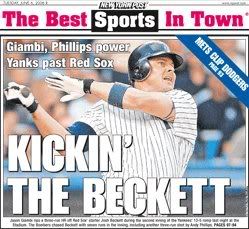 In his last two outings -- totalling six innings -- Beckett has been pounded for 17 hits (six home runs) and 14 earned runs. He has allowed a whopping 16 homers this year (all on the road) in 70 innings after allowing only 14 in 178.2 last year with Florida. ...
Also
, Beckett has a 2.16 ERA in four home starts and a 7.00 ERA in eight road starts.
The Herald
reports
these stats against strong and weak teams:
             W-L  ERA  IP  H ER HR BB SO
NY-Tex-Tor-
  Cle-Phil   4-3 7.02  50 55 39 15 21 35
Sea-TB-Bal   3-0 0.90  20 12  2  1  2 18
Is
this
the first "hot seat" sighting of the year? The headline on Steve Buckley's column: "Tito, Pauley on hot seat: Rout adds to pressure"
Keith Foulke didn't pitch for the fourth straight game.
Tito
: "We don't know quite where we stand with Foulke yet. We have some issues we probably have to at least discuss. He's getting better. Will he be available [tonight]? I don't know." ... That doesn't sound very promising.
Today's
annoying
sportswriter? The Post's Mike Vaccaro:
The 13-5 pasting the Yankees applied last night not only moved them into first place by a half-game, not only got this four-game series off to a staggeringly hopeful start, not only evened the current season series at four games apiece, it also makes you wonder if a kind of seismic, season-altering shift didn't take place, too.