I missed a three-week stretch of games, but that's gotta be the ugliest loss of the season.
Beckett had nothing (1.1-7-8-2-1); the Yankees pounded five hits on his first 11 pitches of the second inning. Although it was clear that Beckett was useless, Terry Francona didn't even get anyone up until New York's
8th
batter of the inning (HGHiambi) crushed a three-run homer off the third deck facade to make it 8-2. What is Beckett's problem? He looked horrible in Toronto and downright useless tonight.
A five-spot in the third put the game pretty much out of reach. And honestly, saying 13-5 makes the game sound a hell of a lot closer than it really was. (I cannot believe Torre used Proctor (his 28th appearance) and Rivera (whose status I thought was "only in an emergency"). Not that I'm not complaining ...)
ESPN (Gary Thorne and Rick "Why God Invented Mute" Sutcliffe) had the game, so I watched most of it -- certainly after the second inning -- without sound. Still, I was lucky enough to hear Thorne say that "there are a lot of Red Sox fans here. When the Boston lineup was announced, there were a lot of cheers, but when the Yankees fans get here, that will be the end of that."
When he said this, it was the top of the 2nd and the game had been going on for 36 minutes.
When the Yankees fans get here ...
Still, a loss is a loss, whether it is 13-5, 564-0 or 19-8. So let's regroup for tomorrow, pound Wang and give David Pauley the kind of run support that Mussina enjoyed tonight.
***
Lineups, from the Herald:
Crisp, CF        Damon, CF
Loretta, 2B      Cabrera, LF
Ortiz, DH        Giambi, DH
Ramirez, LF      Rodriguez, 3B
Nixon, RF        Posada, C
Youkilis, 1B     Cano, 2B
Lowell, 3B       Phillips, 1B
Varitek, C       Williams, RF
Gonzalez, SS     Cairo, SS
I like Tek 8th for now. Nice lineup, Tito. Seriously ... You too, Joe!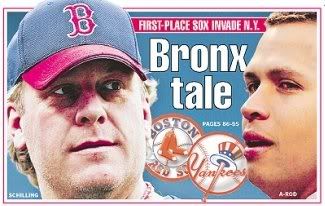 Should we now call him Slappy McRedlips?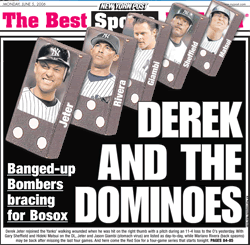 Beckett
/
Mussina
, 7 PM